Squid, Skirts, Heads & Hoochies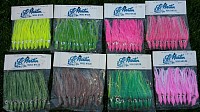 Martin Squid large - 10 pack
Squid Bodies - 10 pack 4 inch
Flaming fluorescent colored Squid Heads for particular salt water anglers who make fishing their business.  Molded in colors glitter-flecked for flash.  Squid will not fade, gum or harden.  A rainbow of colors available.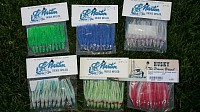 Martin Squid small - 10 pack
Martin Squid Bodies 10 pack - 2 1/4 inch
Squid - 10 packs - Small 2 1/4 inches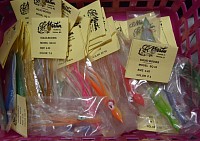 Martin Squid - single packs
Martin Squid Bodies - singles
Squid in single packs in a variety of colors.
Size is 4 inches long
Price is $1.25 each.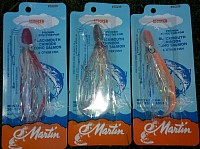 Martin Seducer Squid Body
Seducer Squid Body - rigged
Squidder - Model SQ37. Rigged on a long nylon leader with end loop. two dingle hooks, spinner blade and red bead bearing. Squid is 4" long.
Colors: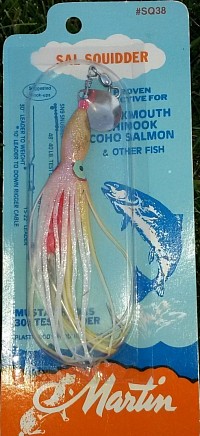 Martin Sal Squidder
Martin Sal-Squidder - rigged
Sal Squidder - Model SQ38. Rigged on a stainless steel shaft with red bead, clevis mounted spinner blade and single hook. Barrel swivel and 3 large fluorescent beads complete the squid assembly. Body is 4" long.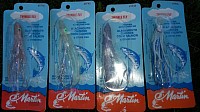 Martin Twinkle Fly
Martin Twinkle Fly
Twinkle Fly - Model TF45. Sliding fluorescent squid is glitter-flecked for slash. Unit is assembled on long leader with tinsel trimmed single salmon hook. Body is 4" long.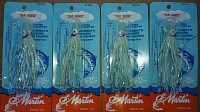 Martin Glo Shrimp
Martin Glo Shrimp
Glo Shrimp - Model GS56. The plastic skirted Glo Shrimp is mounted to a single snelled hook tied with fluorescent red yarn. A colorful steelhead and trout killer. Length is 2 1/2".
Colors available:
Twinkle Skirt - Model TS41. A semi transparent plastic head with trailing iridescent streamers. Packaged 3 per pack. Body is 4" long.