Dodgers and Large Lure Spoons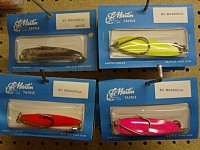 Martin Maverick Spoon
Martin Maverick shown in assorted colors in original packaging in the 5.5 inch size.  Price is $3.50 each.

Martin Wobbler
Martin Wobbler
Since 1933 - Martin's first commercial spoon. Originated bu a commercial fisherman to imitate a natural Pearl Wobbler. Attracts all bait-eating salmon. Size and color availability:
Size 2 $4.00
Size 3 $5.50
Size 4 $6.00
Size 6 $7.25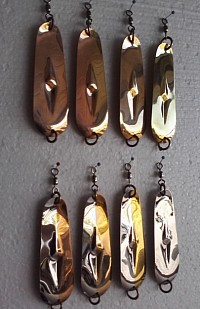 Original Martin Kachmor Spoon
This picture reflects a variety of metal finishes on the Kachmor spoon.   Among the sizes and finishes available are:
Size 6KM...(3 3/4")...$3.50...gold bronze, brass/chrome 50/50, brass, brass/copper 50/50, phosphorus bronze, phs/chrome 50/50, phos.copper 5050, fire red/pearl front/back, gold bronze/chrome, chrome.

Size 6.5KM...(4 3/8")...$3.75...gold bronze/copper 50/50, gold bronze, phosphorus, chrome, gold bronze/chrome 50/50, phosphorus brass, brass, phos bronze/chrome 50/50, brass/chrome 50/50, fire red/pearl front/back, chart w/ red tip/pearl front/back.

Size 7KM...(5 1/4")...$3.95...copper, brass, gold bronze, phos bronze/chrome 50/50, phosphorus, brass/copper 50/50, cooper/chrome 50/50, brass/chrome 50/50, pearl pink stripe, gold bronze/chrome 50/50, chrome.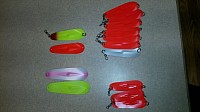 Martin Kachmor Spoon - painted
Kachmor blades/flashers in an assortment of colors and stages of development.

Martin Dodger Flasher (Seattle Six - West Waterway)
The finest and first flasher made!  Flashy, swaying, darting action attracts salmon, lake trout, and others.  Heavy duty swivel and Corkscrew swivel attached. 

Finishes:  Nickel, Brass, & 50/50.......... $7.00
Painted:  Pearl White, Pearl Red, Red Flash, Pearl Pink.......$6.00
(current stock of brass only)
Packaged:  After market packaging in poly bag.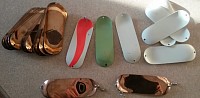 Martin Seattle Six Dodgers in various finishes
Martin Seattle Six Dodgers
Different colors available, some with no rigging.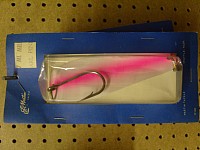 Martin Miller Spoon
Picture left is the Miller Spoon but it's more the size of a flasher.  These are available in sizes 6 and 7 and are $6.00 and $7.00 dollars respectively.

Martin original Fishmor Spoon
Martin Fishmor (pictured above)
 A wicked spoon with a design concept that makes the lure tend to ride upright causing a wild side-to-side action.  Comes rigged with a barrel swivel, welded rings, and a single salmon hook.
Colors:  Convex side painted Chartreuse, Fire Orange, Pearl Pink and Cerise.  Concave side with Pearl White for ultimate flash. 
             Models               Length             Price
             3.5 FM                2 1/8"             $2.25
             4.5 FM                3"                   $2.50
             5.0 FM                3 ½"               $2.75
             6.0 FM                4"                   $3.00
Martin Superflashers
Martin Superflashers are a marvel.  These come with instructions on how to "tune" them according to the action you like best.  Use with or without snubbers while trolling ahead of the lure.  The third picture is the 3-D Flasher (above).

Martin Superflashers come in a variety of colors and sizes - from 3" to 15" long.
BB3F.............$3.00                            BB10.............$10.00
BB4F.............$4.00                            BB12.............$12.00
BB6F.............$6.00                            BB15..............$18.00
3-D Flasher...$7.00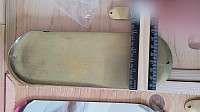 Northwest Herring Dodger - in rough brass - no rigging
Northwest Herring Dodogers Unfinished
Available without paint in bare brass with no rigging.